WordPress is one of the largest blogging and CMS (Content Management Systems) on the internet. If you're a new business or blogger, chances are your website is built with WordPress.
The best part about WordPress? The plugins! Plugins are small pieces of software that can be added to your website to extend functionality. There are thousands of plugins (free and paid) available on the market, but, unfortunately, not all plugins are created equal.
Not interested in digging through thousands of plugins? Keep reading, because I'm going to share 9 of the best, and free, WordPress plugins for new bloggers and business owners.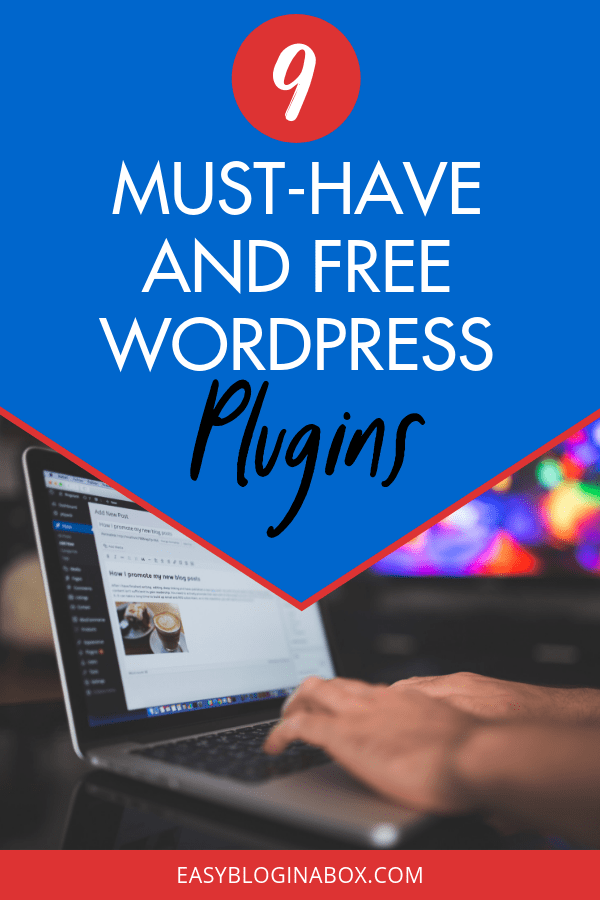 Please note this post may contain affiliate links and I may earn a commission if you click them and make a purchase. This is, of course, at no cost to you, and I only share products that I use and love myself. Please read my disclaimer for more information.
If you've read my articles before, you know about my tech guru husband, Trevor. Trevor taught himself how to build the website for our first business nearly 10 years ago. He now builds and manages websites for others – including this site.
About 90 percent of every website issue Trevor has solved has been due to a glitchy plugin not playing well with the site theme or other plugins. He's also learned that too many plugins will slow down your site and make for a crappy user experience.
It took years to figure all this out. That's why I asked Trevor to assemble a list of must-have plugins for my readers. I want to eliminate the learning curve for you.
Listed below are the nine WordPress plugins Trevor recommends for new bloggers and business owners. These plugins are free and, in our experience, play well with others. Install these nine plugins on your site to enable social sharing, improve site speed, and tackle the most feared SEO.
Enough with the intro. Let's do this!
1. Sumo
If you plan to create and share content on your website (i.e. blog) you're going to need social share buttons on your website. For new bloggers, SUMO is a great option. The plugin is free for websites with under 5,000 page views a month.
In addition to social share buttons, SUMO includes a bunch of different tools designed to grow your email list – including heat maps, list builders, welcome mats, scroll boxes, and smart bars.
Keep an eye on this plugin though. Once your website visits increase the price per month increases significantly. Once you hit that 5,000 mark we recommend purchasing Social Warfare. We use Social Warfare for this blog and love it!
2. Compressed JPeg and Png Images


Most websites today are very visual and include a lot of images. If you want to keep your visitors engaged, you need to include lots of images. The only problem is, images slow down your site. Enter the Compressed JPeg and Png Images plugin.
When you upload an image to your website, this plugin will shrink it down as small as possible without losing image quality. For example, if you load a 57kb image to your website, this plugin will reduce the image size to 15kb. This reduces the image load time by 70% (+/-) making your website load faster! The faster your site loads, the longer your website visitors stick around.
3. iTheme Security

Every website, no matter the size, needs a security plugin. This will keep the bad guys from breaking down your door. Trust me, you do NOT want to get hacked.
Sadly, hacking happens at all levels, not just the major retail sites. The website for our small and local photo booth business receives multiple hack attempts every month.
We use iThemes Security, (formerly known as WP security). This plugin will install on your site with default settings, making it a really simple "plug and play" plugin. No need to go through a complicated setup to ensure your site is secure.
If you want to dig deeper and customize each setting you can. This plugin includes a ton of options, allowing you to personalize it for your specific needs.
4. WP Super Cache

Website speed is essential. If the pages on your site load slowly, your visitors will bounce. Of the many tactics to improve site speed, caching data is one of them. A cache plugin will store your website data as static files – allowing the data to be delivered faster.
With every cache plugin, there's different variations and degrees of difficulty. WP Super Cache is the most simple and powerful cache plugin. It's so simple in fact, that you can activate the plugin and leave it alone. There are a few settings you can customize and even those are fairly simple and self-explanatory.
5. Cloudflare
Another tactic to improve site speed is a content delivery network (CDN). A CDN isn't technically a plugin, but an actual application. How does a CDN work? Imagine you have an urgent meeting in Beijing. Would you rather take a flight from Chicago or Tokyo to get there? Naturally, you'd choose the significantly shorter flight from Tokyo.
A CDN essentially shortens the flight for your users. It takes the information from your site and places it on different servers throughout the world. Now, when a visitor from Beijing visits your website, they are communicating with a server in Tokyo instead of your host server in Chicago.
This reduces the response time of your website – improving load times and the user experience. According to Kissmetrics, a 1-second delay in page response can result in a 7% reduction in conversions.
Don't sacrifice conversions – get a CDN. We recommend Cloudflare for a couple reasons. First, Cloudflare is free to get started and prices increase as your business and your needs grow. Second, Cloudflare is more than a CDN. It includes some powerful security features to protect your site from attacks.
6. Contact Form 7

In addition to a Home page, a "Contact" page is the most important piece of your website. The need for a Contact page can be related to the age-old question about a tree falling in the woods. My marketing version of that question is, "If a website visitor is unable to contact you, are you actually a business?"
We could pontificate on that one all day, but the bottom line is, you need an easy method for your visitors to contact you. For this, we recommend Contact Form 7. It is one the longest and most reputable plugins on the market. In fact, we've been using this plugin on our websites for nearly 10 years.
This plugin is not only powerful but very user-friendly. It's as simple as entering the information you want to capture in your form, copying the shortcode it generates, and pasting it where you want it on the page. No need to learn code to use this plugin.
When a visitor fills out your contact form an email is sent to you with their information. There is one small problem with this plugin, but it's solved by the next plugin on the list.
7. Flamingo

Flamingo is a must-have if you install the Contact Form 7 plugin. Unfortunately, Contact Form 7 does not store the information collected by the form. If, for some reason, your email isn't working or your server isn't communicating properly (trust me, this is likely to happen at some point) all information captured by the contact form is forever lost in space.
Flamingo solves this problem by recording the information entered into your forms. Flamingo has saved us numerous times when a random glitch has occurred.
8. ManageWP Worker
Of all the plugins Trevor named, ManageWP Worker was the one he geeked out about the most. It's ideal for someone managing multiple sites, but still extremely powerful if you have one small site.
The ManageWP dashboard (separate from your WordPress dashboard) allows you to easily address different aspects of your website(s). With the click of a button, you can update your theme, plugins, and WordPress core. Another click, and you can optimize your website by removing spam comments, old posts revisions, and any excess overhead.
Another great feature of ManageWP is the site backup. For only $2 per month, you can have complete peace of mind that all of your information is backed up daily. And, a single button will restore your site to the previous day in case something tragic happens. We've had to use this feature a few times and it's saved our butts!
9. Yoast SEO
Yoast SEO is the most reputable SEO plugin for WordPress websites. This plugin tackles the massive, scary SEO beast and tells it who's boss. Yoast SEO will analyze your content based on readability and keyword optimization. It will deliver recommendations and color-code each issue so you know where to place your time and attention first.
This plugin will also generate and automatically update your sitemap for submission to Google. Each time you update a post, Yoast SEO will notify Google that you have updated a certain page and they need to crawl it again.
The Yoast SEO plugin doesn't stop there. It contains many more outstanding features, our favorite of which is Webmaster Tools and site verification. If you've ever been asked by websites such as Pinterest or Google Search Console to verify your website you were likely so confused you gave up.
For the majority of people, when a site instructs you to "install a meta tag in the section of the index.html file of your website" it makes you want to crawl in a hole and cry. Yoast SEOsimplifies this task and has a spot for you to paste the meta tag for Bing Webmaster tools, Google Search Console, Yandex Webmaster Tools, Pinterest, Facebook, Twitter, and Google+. For that, I am forever grateful!
BONUS: Google Analytics for WordPress by MonsterInsights

Before I wrap up, I want to talk about Google Analytics and share a bonus plugin. Google Analytics is an absolute must! If you don't already have it installed on your site I want you to go install it immediately. This requires you to add a unique tracking code to your header.php file.
Don't freak out. There are easy ways to do this. Many WordPress themes include a feature to easily paste your Google Analytics tracking code. This is why we didn't include a Google Analytics plugin on the official list of must-have plugins.
If your website theme does not include this handy feature, and you're completely lost on how to add the code to your header.php file, install the Google Analytics for WordPress by MonsterInsights plugin. This is a free plugin that allows you to install Google Analytics without touching any code.
Important to Keep in Mind
As I mentioned earlier, you want to focus on speed. The faster your site loads, the longer people will stay and read your content. This means you need to optimize how many plugins you install.
Do not download 50 different plugins for every little feature you want. Each plugin requires a certain amount of time to load. Too many plugins will clog your server and slow it down. It's OK to test different plugins, but don't go overboard.
Also, if you notice your site is acting strange or experiencing glitches, 9 times out of 10 it's due to a faulty plugin. First, make sure your plugins are all up-to-date. If the issue wasn't as simple as an update, then start deactivating your plugins one at a time until to discover which plugin is causing the issue.
Time to Take Action
The massive number of plugin options available can be overwhelming. On top of that, each expert has their own opinion about which plugins you do and don't need. Personally, I recommend action above all else. This means stop stressing about what to install and don't read a hundred different blog posts before you make a decision.
Take it one step at a time and slowly tackle each plugin mentioned in this list. Your site doesn't need to be perfect on day one. Perseverance, not perfection, is the key to success in anything in life – parenting, exercise, business, and even website development.
I challenge you to stop researching and go take action! Then, comment below and let me know what action you took. What plugins did you install?
Originally Published on AngieGensler.com