Blogging is generally regarded as a pastime or hobby, but there's plenty of ways to make money blogging.
There are thousands of real people making money from their blog.
A lucky few are even making millions! Ever heard of the Pioneer Woman or Perez Hilton?
Blogging is also a lifestyle-friendly business that allows you to explore your passion, share your creativity, and work from the comfort of your own home (or coffee shop, hotel room, secluded beach).
The question we get asked all the time is, how do you monetizing your blog?
To help you understand all the ins-and-outs of monetizing your blog, we've outlined 10 proven ways you can make money blogging.
Each one is how real bloggers are creating income streams from their blogs.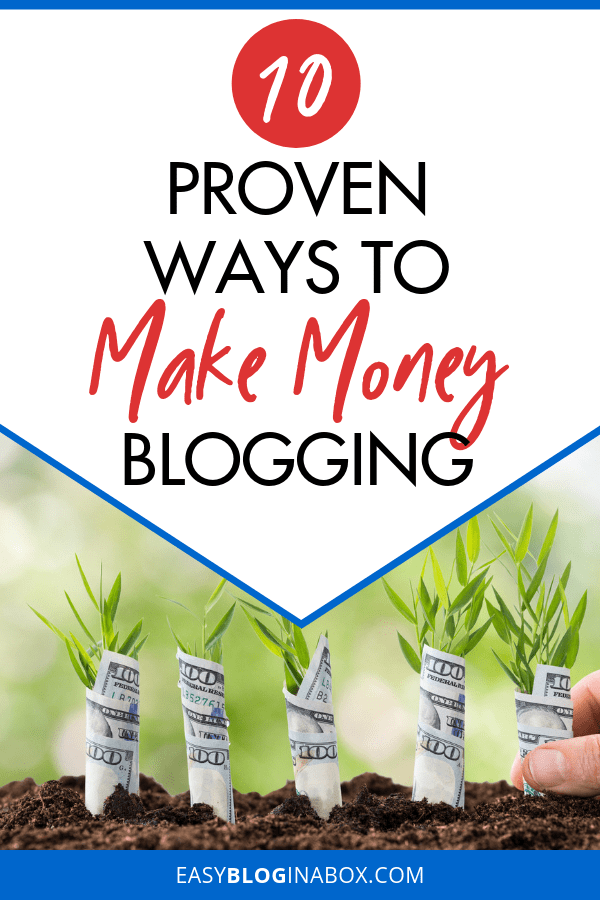 Please note this post may contain affiliate links and I may earn a commission if you click them and make a purchase. This is, of course, at no cost to you. Please read my disclaimer for more information.
Lay the Foundation
Before you can begin to monetize your blog, there are a few steps you need to take first to lay the foundation.
Get Started
Seems simple enough, but the biggest obstacle for many people is knowing where to start.
Whether they get hung up finding a niche, become intimidated by the technical aspects, or simply procrastinate and avoid the process, many potential bloggers get stuck in the pre-blog limbo.
To get you started, read How to Start a Blog and 12 Crucial Blogging Tips for Beginners.
Keep in mind that it takes time to build a following and an income, so the sooner you start, the sooner you'll see a return on your investment.
Create Valuable Content
The content you produce is key to your blog's success.
First, you need to determine your blog's focus and niche so you can decide what topics that will be useful to your ideal reader.
Valuable, useful content that resonates with your readers and keeps them captivated is what will help your blog gain traction.
Not only will informative, accurate content build your following, but it will also identify you as an authority and build reader trust, which is incredibly useful when it comes time to monetize your blog.
Build a Following
Content is a very important aspect of your blog, but it's just one piece of the blogging pie.
Half of your time should be spent promoting your blog, driving traffic, and building a following.
When it comes to growing your blog's audience, there are many tips and resources available.
Generally, your readership will grow through targeting your content to your audience, word-of-mouth and paid promotion, email lists, audience engagement (comments, likes, shares), and fostering virtual relationships within your niche's community.
The best blogs create a sense of camaraderie, community, and even friendship among their writers and followers, and that comes from consistent engagement with their following.
Responding to comments, requesting feedback, sharing personal tidbits, and showing interest in your reader's wants and needs are some ways to engage with your audience and make them feel heard and valued.
This will keep them coming back and encourage them to spread the word about you and your blog, as well as giving you valuable feedback about your audience.
Start Building Income Streams
Now that we've covered the basics, it's time to shift gears and focus on the 10 ways to make money blogging.
Keep in mind, the highest paid bloggers don't focus on just one method.
They diversify their monetization strategies and build various income streams to create a solid income.
1. Direct Advertising
This is one of the more well-known methods of making money from a blog.
Direct advertising is usually reserved for larger blog audiences, but ad networks will allow smaller blogs to run ads and begin to build income and learn the process from day one.
The two most popular types of ads are cost-per-click (CPC) / pay-per-click (PPC) ads, which pay for each click, and cost-per-impression (CPM) ads, which pay a fixed sum for the number of people who view the ad.
Below is an example of a Google Adsense In-article Ad.
With these types of networks and programs, you don't need to be in direct contact with advertisers, and the network chooses ads relevant to your content, which takes the guesswork out of the process.
The above advertisement took me about two minutes to add in the code to the page.
If you click on the ad, we can get extra income from the CPC.
Notice how we don't place CPC ads all over this website?
That's because we want to keep visitors on the site longer and we don't want to send them off to a different site.
That's simply a matter of preference, but something you might want to consider when strategizing your blog income streams.
2. Sponsorships
When your blog has a significant following and traffic, businesses will pay for exposure to your audience.
You have the flexibility to choose the companies and rates you will accept.
Companies will pay you to write sponsored posts about their products or services.
Or, they may pay for space in your email newsletters or airtime on your podcasts or videos.
Social media influencers work in a similar way since they are often paid or offered free products or services in exchange for written or video reviews.
3. Affiliate Programs
Another common method to generate blogging income is through affiliate programs.
Affiliate income is gained through unique product links that are found on your blog, emails or social media posts.
Every time someone clicks that link and purchases a product, you earn a commission.
Links are either included in the content or found through banner ads.
Many bloggers successfully monetize their blog using affiliate programs, and they're easy to set up and manage.
Naturally, the potential income is higher when you have decent traffic, but even a small following can be lucrative if you build trust with your audience.
Check out the Share-a-Sale affiliate program to get started with affiliate marketing.
4. Events
Running events through a blog is a less common method of generating income, though it is a useful method for some bloggers.
These events can include everything from large conferences to smaller gatherings for blog readers.
Whether large or small, these events make money by charging admission for readers or through sponsorships.
These events can also be virtual.
5. Membership Programs
Membership programs, continuity programs, and subscriptions are all forms of recurring income that require readers to pay a monthly or annual fee for blog perks such as premium content, services, tools, consulting, coaching, or access to your community and forums.
Depending on the type of perks offered, this form of income can offer significant returns.
Generally, the appeal of a membership is exclusivity, so be sure that whatever you're offering is valuable and not readily available elsewhere.
6. Business Promotion
Many businesses have adopted blogging as a way to direct traffic to their business, build their brand, or indirectly market a product.
This is known as "content marketing," and some examples would be a car dealership using blogs for car reviews, maintenance or repair information, or tips for buying or financing a car.
Depending on the type of business, blogs are a useful marketing tool to increase online presence and grow a customer base.
7. Services
Many bloggers generate income by offering their services to their readership.
Some examples of this include a marketing blog offering consultations, a fitness blog offering customized training or meal plans, or freelance writers or graphic designers offering their skills.
With this type of income, the possibilities are virtually endless and nearly every niche could find a way to market a service.
That said, it's important that your service is related to your content in some way, or it's unlikely to be of interest to your readers.
8. Products
Many bloggers now use their blogs to market their digital products, such as eBooks, virtual courses, images, video, music, or software.
Some bloggers even sell physical products such as artwork, books, or merchandise.
Selling digital and physical products requires more work and is more expensive initially, but it can generate a significant income over time.
Like selling services, keep in mind that this type of income needs to be relevant to your niche or it's less likely to be successful.
9. Job Opportunities
Blogging is a chance to build credibility within your niche, which can open the door for other money-making opportunities in the future.
You may be approached with an amazing job offer, asked to consult or coach, co-author a book, or be commissioned for other work.
While this may not be a direct form of blogging income, it's quite useful to professionals who are looking to build their personal brand.
10. Sell Your Blog
For blogs with significant followings, the opportunity to sell your blog can bring in a one-time, 4-7 figure income, if not more.
Compared to the more popular types of income, selling your blog for a considerable sum is rare, but it is a real possibility if you have a strong following, a recognized and popular brand, and valuable, highly-sought content.
Multiple Revenue Streams
Online money-making opportunities are growing and evolving like never before, but there's still no guarantee.
While you need to decide which type of income works best for you, it's never wise to put all your proverbial eggs in one basket.
By diversifying your revenue streams, you'll be covered if something suddenly stops working, especially if you're looking to use your blog to replace your current income.
In addition, multiple revenue streams also build your income faster and help direct traffic to your blog.
Experiment
Not all of these income streams will work for you, so don't be afraid to experiment with different types of revenue and see what gains traction with your niche and readership.
It also takes patience. Making money from a blog is not a "get rich quick" option.
It takes time and persistence to build your following, tweak your content, and explore your income options.
Angie always says, "Perseverance, not perfection, is the key to success."
Over time, you will discover which income streams work best for you, which don't, and what combination is most successful.
Already making money with your blog?
Comment below on which revenue stream is working best for you!
Originally Published on AngieGensler.com